Introduction
American Collegiate Scholarship Association (ACSA) is an organization based in the U.S.A., specializing in international student recruitment and placement in Universities and colleges in the U.S.A. ACSA's mission is to help young people from all over the world realize their educational dream of studying in the U.S.A., experiencing cultural exchange of great benefit. ACSA strives to be an effective link between students from around the world and U.S. institutions for the placement of qualified young people into the American educational system. ACSA's corporate headquarters are located in Washington DC and the organization currently counts on a network of offices throughout Latin America, Europe and Asia.
Hundreds of young people from all over the world participate in ACSA programs every year, many of whom have already graduated from American universities. On average, approximately 8 million dollars in scholarship money are awarded to ACSA participants each year. ACSA offers American universities international students who are typically not represented on most American campuses.
ACSA carefully selects, recruits, and prepares students through its academic scholarship, as well as Athletic scholarship programs for admissions into American universities. ACSA is proud to present competitive scholarship opportunities for amateur athletes of all levels, and students of varied academic levels (not necessarily of high performance); These scholarships would be impossible to obtain without ACSA's professional assistance.
Fluency in English is not mandatory to participate in the Programs. Participants have access, if necessary, to English as a second language courses (ESL), as a step towards a university career. Scholarships also cover these classes and preparation.
ACSA maintains a 100% success rate in obtaining scholarship offers for its participants. All ACSA programs have fees that are refunded in case the participant is not successful. In other words, ACSA operates under a no-risk policy for its participants. For international students admission to the United States educational system, ACSA offers two unique and innovative programs:

to Page TOP
Participating Institutions
Participating universities are located across all regions of the United States. With the support from the Program, institutions located in states such as California, Connecticut, Florida, Georgia, Illinois, Iowa, Kansas, Kentucky, Maine, Missouri, Tennessee, and Texas among others intend to increase the cultural diversity of their campus communities and improve their athletic programs.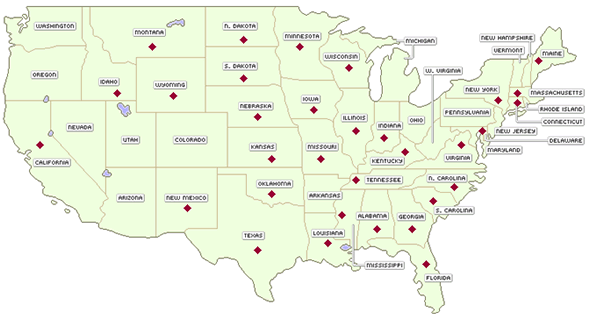 Participating institutions range from good to excellent among the large number in the U.S. They have a total annual cost ranging from USD $17,000 to $30,000 including tuition (cost for classes), housing, and meal plan.
It's important for all representatives to understand that institutions such as Harvard, Stanford, Berkeley, Purdue, and Princeton among others do not participate in the Athletic Program but are interested in recruiting students who can afford the full cost of an education at their institutions. ACSA may be able to contribute towards placement at these institutions through the Academic Program. These institutions have a high demand and the amount of applications they receive each year, from within the U.S. and from abroad, greatly exceeds their available space. Therefore, they are only interested in recruiting the most excellent students. These students receive no scholarships, and must therefore pay the university's full fees.
Additionally, students only interested in this type of institutions who may initially not qualify nor afford the high cost of education at the most superb institutions can utilize the service of the program to access the U.S. educational system. Once at an institution, students are able to transfer to a different university at any point during their academic career. Depending on your market, you may only receive inquires for previously mentioned institutions. In this case, our job is helping students to understand that there are other colleges and universities offering great opportunities besides these institutions referred to as "Ivy League Schools".
While it is not possible to guarantee that a participant will be recruited by a particular institution, ACSA can assure its participants that they will certainly obtain quality educational opportunities at highly competitive costs through its programs. It is almost impossible for any student to obtain these scholarships on their own. Keep in mind that this is why this program continues to grow and is extremely successful because students' expectations are satisfied.
English Proficiency:
Knowledge of the English language is not mandatory to participate in the Program. Participants have access, if necessary, to English as a second language courses as a step towards a university career. In most cases, the TOEFL test is only required by colleges and universities to identify the English level of the participant and, therefore, determine whether the participant begins with ESL classes or the undergraduate career of choice. Test score does not either affect the amount of scholarship or the participant acceptance into the Program. ESL classes are covered by the scholarships
Fields of Study:
Each participant's desired field of study is a major priority for both the participating institutions and ACSA. Institutions offer scholarships that apply towards the participant's academic major of choice.
There are a large number of academic careers represented within the participating colleges and universities. Participating institutions offer the whole array of academic offerings in the U.S. In the case you have an interested prospect who wishes to study a career not represented at most American institutions such as Naval Architecture, you will check with us prior to enrolling the student in the program, and ACSA will inform you if his/her efforts can be successful.
Limited Number of Participants Accepted:
Throughout the year, ACSA's College Relations Department located in the United States closely works with and identifies the recruitment needs of the participating colleges and universities as well as its coaches. After this annual process is conducted, ACSA executive team establishes a maximum number of participants for each Program, which is based upon the number of scholarship opportunities available for ACSA candidates.
This crucial process is conducted to ensure that every participant enjoys the highest possible probability of being successful at the Program. This also helps to explain the success rate of ACSA's unique programs.

to Page TOP
Highlights
ACSA maintains a 100% success rate in obtaining scholarship offerings for its participants at American institutions. This achievement confirms the commitment, importance, and strong working relationship ACSA has forged and developed with U.S. colleges and universities.
Successfully servicing students since 1997. More than 70 colleges and universities participate in its Programs and currently institutions from 27 different U.S. States have ACSA Students.
Since 1997, over 6000 students have participated and obtained entry into the American educational system.
The total amount awarded in scholarships and financial aid to participants amounts to USD $ 250,000,000 in accumulated university funds.
Over 1000 ACSA Students have already obtained their degrees at American institutions after completing four academic years.
ACSA currently has offices in over 25 countries and a representation network covering Latin America, Europe and Asia.

to Page TOP
List of References
ACSA maintains an open-door policy regarding inquires. You are welcome to contact these individuals for reference purposes. However, please be concise while communicating with these contacts and only if needed.
General Contacts
American Collegiate Scholarship Association USA Head Office
c/o International Doorways to Education and Athletics
3390 Mary Street, Suite 116
Coconut Grove, Florida, 33133
http://www.internationaldoorway.org/
American Collegiate Scholarship Association ASIA Head Office
c/o Zenken Corporation Linguage Unit
Zenken Plaza B1F
1-4-11 Nishi-Shinjuku, Shinjuku-ku, Tokyo 160-0023 JAPAN
http://www.scholarship.jp
inquiry@scholarship.jp

to Page TOP